WALKING FOR FITNESS AND GENERAL HEALTH  

Please see the Basic Walking page, as an introduction to "walking" and better body posture.
Briskness is a personal speed ………take a slightly longer stride and quicker rate than your normal one – so that you can sustain this rate for about 30 minutes (perhaps 3 times per week). Walk at your normal speed for about 5 minutes as a warm-up equivalent ...and then begin to push down and back more firmly against the handles; you'll notice your elbow will be a little further back than usual as you push (which equates to lengthening your arm's stride range). For about the last 5 minutes of your walk, revert to your normal speed again - as the equivalent of a cool-down period. For best core posture, stretch-up and Walk-tall. When Pacerpole walking, your shoulder muscles are working hard togther to stabilise your upper arms (instead of moving them forward); having a stable shoulder means that your elbow/forearm can produce a stronger thrust action when pushing down and back against the handle - it is this which powers you up and forward. Briskly lift each forearm in turn. Focus on the natural backward PUSH action against the handle; this is the contoured platform designed to control your arm's power transmission effectively – consider it as something to push against, and not to grip. Remember to keep the shafts directed behind at an angle. Check Basic Guide for more information about the hand/handle action.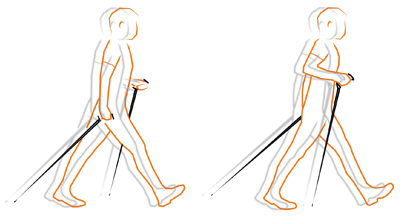 When walking, your leg swings forward from the hip; this is because as your knee bends the foot goes backwards - so the hip has to swing to bring the foot forward. For the arm, when your elbow bends, the hand / pole comes forward automatically - so a forward shoulder swing here is unnecessary. If the hand (+pole) were to reach-out in front, then its leverage as it pushes downwards produces excessive trunk rotation (which could cause potential structural problems for the spine to resolve). Instead, if the arm's action is to enhance our "walking" gait, then its leverage is more effective in producing a brisker speed, and better posture - when at the side of the trunk and not out in front (see film clip below).
| | |
| --- | --- |
| | Please note Adobe Flash is required to view these animations. |
Always aim to keep the span between shoulder tip to shoulder tip as wide as possible i.e. not rounded forward or arched back.
(Note: if training, and want to pace walk + run: when running using the poles – always keep your elbow angled back from vertical, then lift and lower your forearm so the hand seems to be moving up and down in a vertical oval. Keep stretching yourself upwards for better chest expansion/breathing. Relax the fingers.)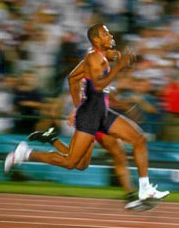 To understand how the arm-stride works so you disrupt its natural action the least:- consider the way your upper arm moves in an arc as you run - the emphasis is behind the trunk - not in front. When walking the arc of the upper arm has the same emphasis but is less extreme - so when integrating the arm/pole, the arc made by your upper arm goes from the vertical to slightly behind the trunk (NOT in front). 
---

N.B. The arm's functional walking-stride leverage is to lift the trunk upwards to instigate the stride and thrust it forward, just like the legs leverage underneath - which is why the Pacerpole action can promote better posture and enhance our walking gait so effectively.

When starting any exercise routine it is always better to check with your doctor.
---
For even more information you may find this article from the Independent newspaper interesting.